The Sharing Economy in terms of Websites Features
"Instead of buying and owning products, consumers are increasingly interested in leasing and sharing them." (Matzler, Veider and Kathan, 2015)
Collaborative consumption is trending. According to La Presse, web platforms related to the sharing economy are worth billions of dollars and they are emerging in all kind of industries. The best-known communities of this kind are probably Airbnb and Uber. Airbnb connects property owners who want to earn money by renting their place for short periods of time to travellers while Uber does the same for drivers and users in need of transportation.
Would you feel secure renting an apartment or taking a lift from a stranger? Personally, I am unsure about the car thing. However, my Airbnb rentals felt perfect in New York, Budapest, Prague and Berlin. Forbes claims that the future of the sharing economy depends on trust. Therefore, this article aims to demonstrate how websites features can influence trust in the online collaborative consumption context. We will present four factors known to influence buyer's trust in consumer-to-consumer e-commerce (Jones and Leonard, 2014) and illustrate each one with features from Airbnb website.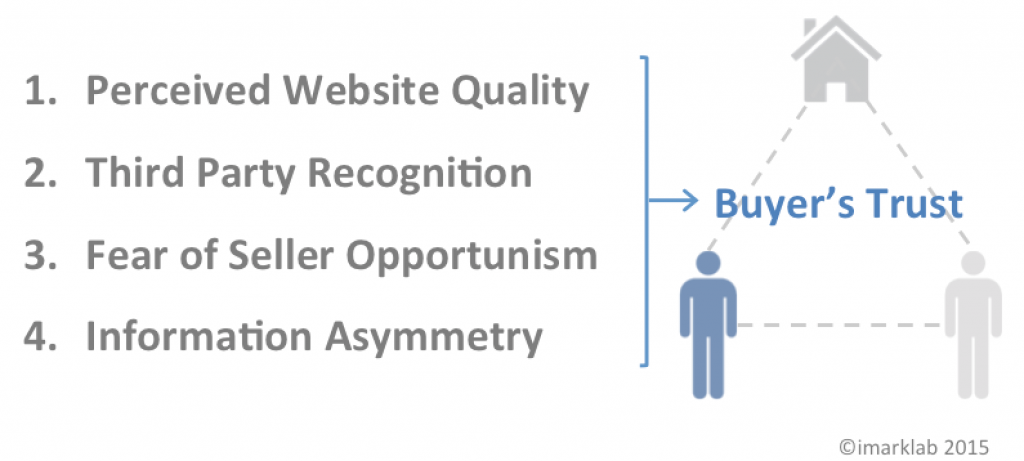 1. Perceived Website Quality
When dealing with strangers online, consumers will look for social signals to judge sellers' trustworthiness. On Airbnb, the perceived quality of the "ads" provided for the listings is crucial. By having a quick look at the most popular rentals in Paris, it is impossible not to notice the awesome high quality pictures. To generate revenues in the sharing economy, you do not only need an appealing product, you also need to make it visually appealing for consumers to trust you.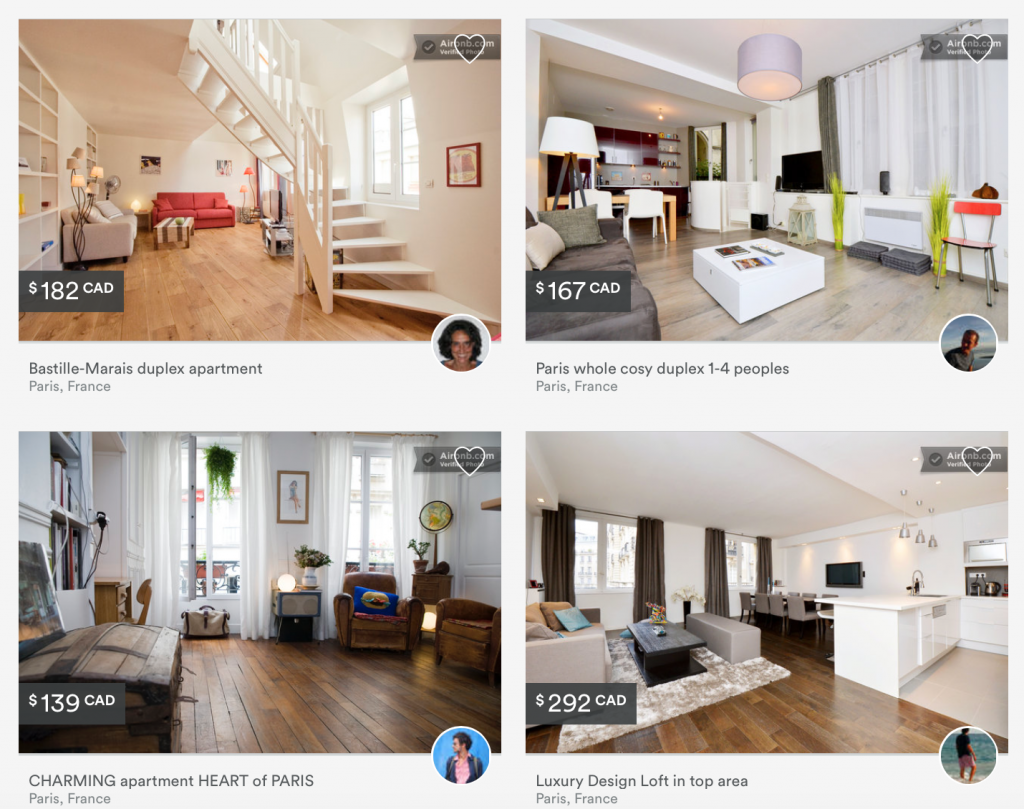 2. Third Party Recognition
The first point was relatively obvious but the second one is harder to notice. Now that you see these beautiful pictures, you might be wondering if they are real. At this point, consumers will look for symbols that provide third party recognition. Airbnb offers sellers to verify their pictures and provide a seal of approval confirming their authenticity. The platform also verifies email addresses, phone numbers and offline identity. As an insecure traveller, I would never choose a listing with unverified photos, never. Thus, adventurous users could go for it and never notice this subtle seal of approval. I noticed the offline identity verification while writing this article (see pictures below).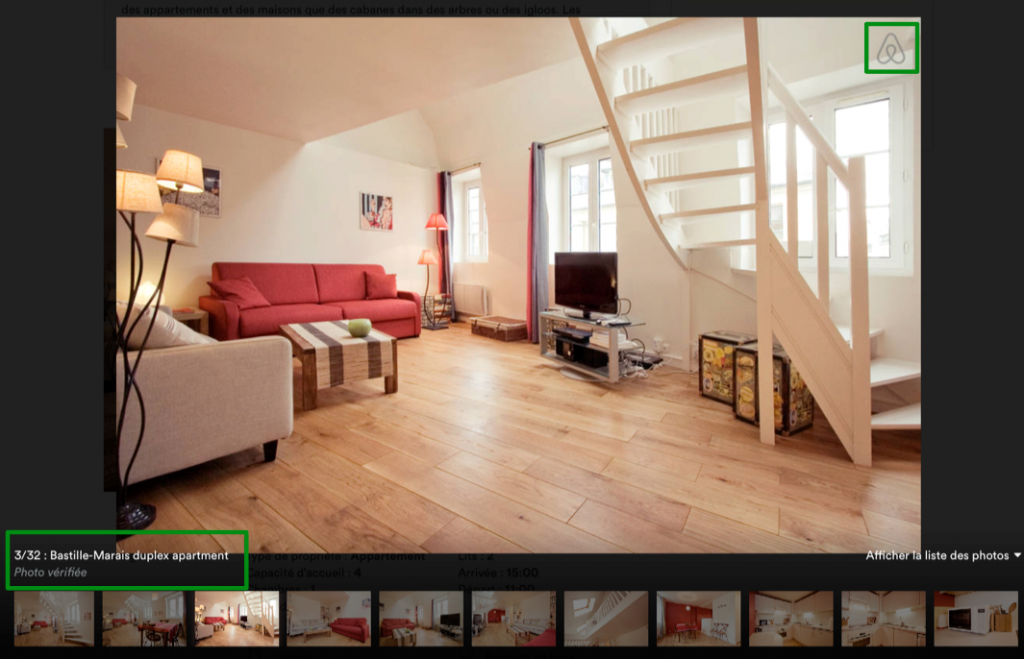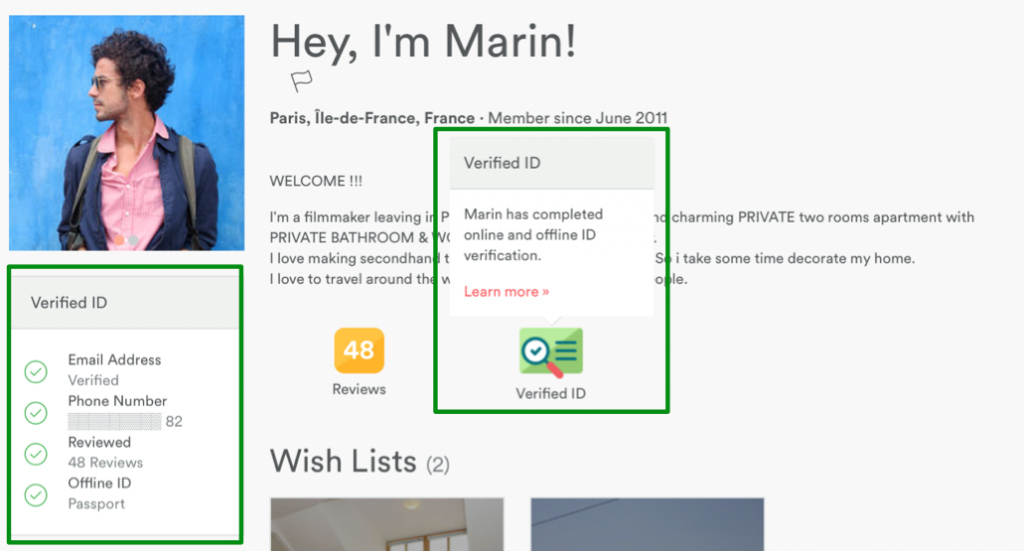 Third party recognition is also part of the payment system. Guests pay when they book a place, but Airbnb only releases the money to hosts 24 hours after they check in. Therefore, users trust Airbnb as a third party to provide a secure online payment solution and do not rely on hosts directly for the transaction.
3. Fear of Seller Opportunism
Consumers are generally afraid of seller opportunism. When renting a place, you might wonder if it is consistent with the description provided online. The seals of approval and payment system help, but maybe they cannot convince you that an apartment will fulfill your needs. All the Airbnb listings are rated in terms of accuracy, communication, cleanliness, location, check in and value. Users can only comment their experience with a place and a host up to two weeks following their stay, so they provide an accurate evaluation. Again, as an insecure traveller, I would not trust a place that has not as least ten good recent comments. By reading about other people's experiences, I make sure the host is not going to take advantage of me or my money.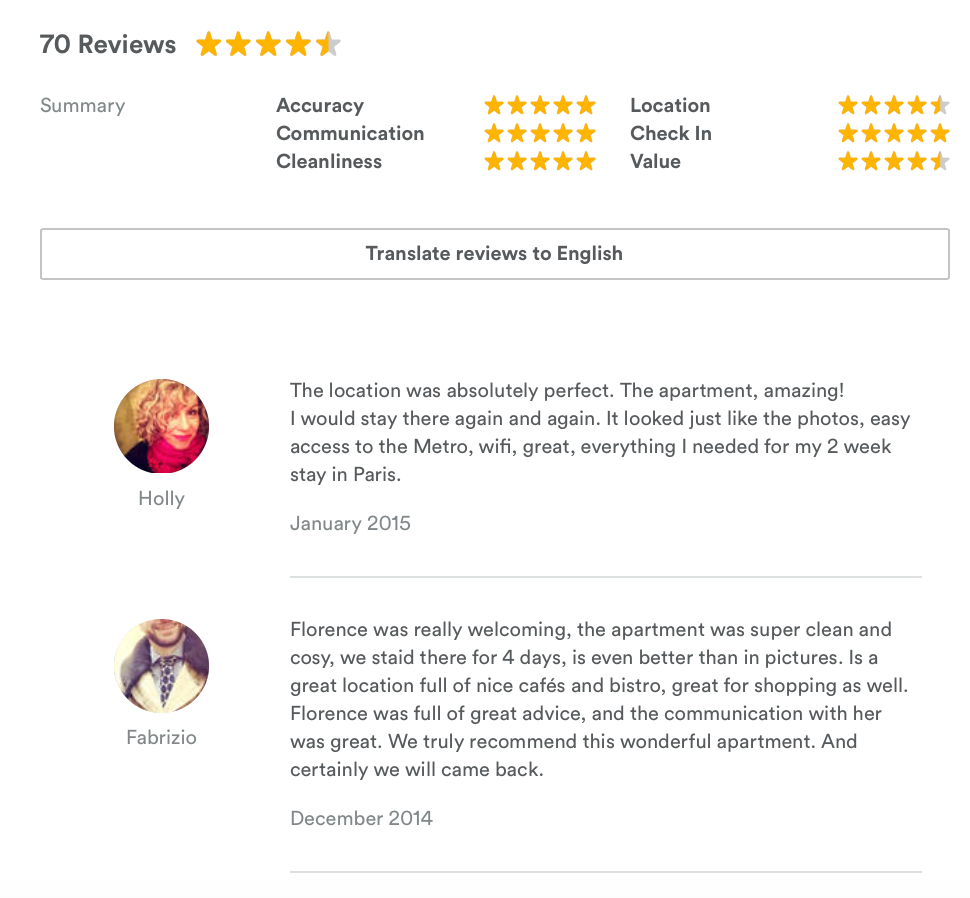 4. Information Asymmetry
Consumers are aware that Airbnb hosts have more information on their listings than they do. They will be looking for detailed descriptions to compensate the information asymmetry that occurs in the transaction. Airbnb is structured for hosts to provide detailed information organized in categories. Space, amenities, prices, description, house rules, availability and location are generally well presented for all the properties on the website.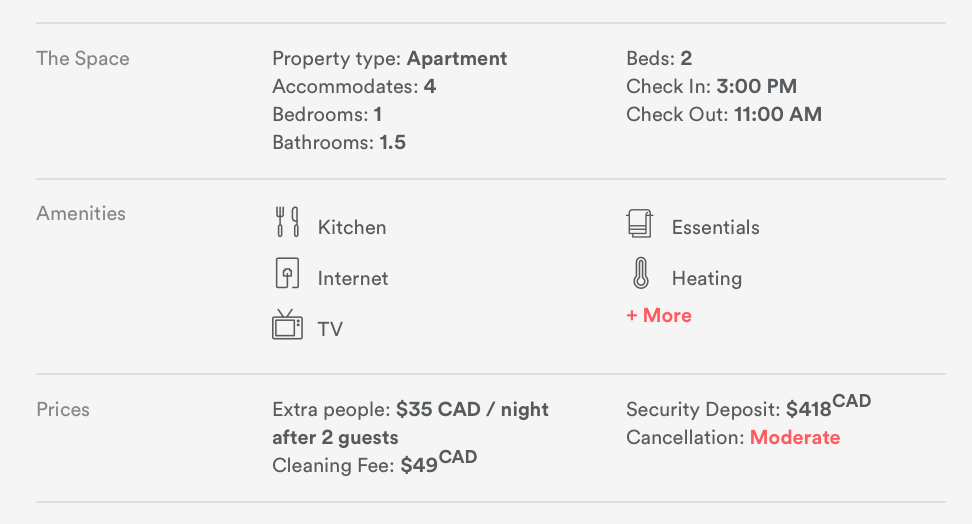 In conclusion, the Airbnb example demonstrates how website features can influence buyer's trust in sharing economy as a form of consumer-to-consumer e-commerce. Similar features could be found on other websites from the sharing economy phenomena. We mentioned Uber in this article, but there are plenty of other emerging platforms around the Web. You can find a reliable babysitter for your dog (or cat) on DogVacay (read about it in LaPresse+), cook for strangers and earn money with Feastly, borrow a parking spot using JustPark, and so on.
Perceived website quality, fear of seller opportunism and information asymmetry certainly increase consumers' trust when it comes to sharing economy. However, third party recognition is the main strength of collaborative consumption. Web platforms as the ones presented in this article are first and above all third parties that connect consumers to consumers. By taking the connection in charge, they make trust between strangers possible in an e-commerce context.
References:
Jones, Kiku and Lori N. K. Leonard (2014). "Factors Influencing Buyer's Trust in Consumer-to-Consumer E-Commerce", The Journal of Computer Information Systems, vol. 54, no 4, p. 71.
Matzler, Kurt, Veider, Viktoria and Wolfgang Kathan (2015). "Adapting to the Sharing Economy", MIT Sloan Management Review, vol. 56, no 2, p. 71-77.
https://imarklab.com/wp-content/uploads/2015/06/perceived-website-quality-airbnb.png
809
1024
Amelie Beriault Poirier
https://imarklab.com/wp-content/uploads/2015/04/imarklab_logo_transp-300x105.png
Amelie Beriault Poirier
2015-03-19 11:52:03
2015-12-14 12:59:47
The Sharing Economy in terms of Websites Features